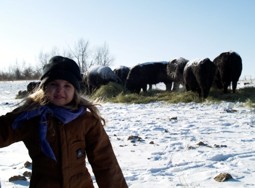 Have you ever wondered where your food
comes from?
Did you know the average meal travels at least 1500 miles from farm to plate! Imagine the impact on the environment, food quality and local sustainability.
Willowbank Ranch is a small family owned and operated Angus cattle ranch and Saskatoon berry orchard located 45 minutes SW of Calgary in the foothills of Southern Alberta. We take great pride in delivering locally grown wholesome and safe food for you and your family. If it is not good enough for our family, it is not good enough for yours!
Willowbank Ranch Angus Beef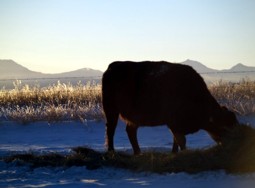 Our ranch-raised beef is free of synthetic hormones. We feed a natural diet, which includes Willowbank Ranch grown hay and a grain ration. Our cattle are raised in wide-open spaces, not in the small, crowed pens of a feedlot. The beef is sold in halves or quarters, including cuts from all parts of the animal. Our beef is provincially inspected, aged 21 days and includes no additives or preservatives. What you get is wholesome, pure Alberta Beef.
We are taking orders for beef right now, supply is limited! Beef will be ready in April 2017.
Willowbank Ranch Saskatoon Berries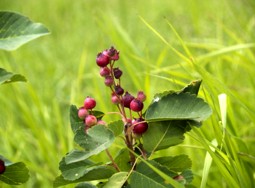 Saskatoon berries taste great, and they are great for you! All berries are antioxidant rich helping in the fight against heart disease and cancer, and our Saskatoon berries will provide you with a delicious, healthy and locally grown super food!
The orchard was planted in 2006, and is currently growing and establishing. We anticipate that this summer we will start to harvest a more significant amount of fruit, and have it available for purchase.
Our berries are harvested in late July or early August, and are sold fresh or frozen. Simply rinse and drain the berries and they are ready for use in muffins, pies, crisps, jams and jellies or eaten just as nature intended.
Copyright © Willowbank Ranch; All Rights Reserved.